Public Image Ltd celebran sus 40 años con una caja recopilatoria
Public Image Ltd (P.I.L.) son sin duda una de las formaciones más influyentes de su generación. Surgidos de las cenizas de Sex Pistols, cuando Johnny Rotten recuperó su apellido uniéndose al ex The Clash Keith Levene en la guitarra, Jah Wobble en el bajo y Jim Walker en la batería. Están considerados como padres del post-punk estilo que enriqueció la escena musical de finales de los 70 junto con la new wave. Una nueva oleada de bandas que dejaban a un lado el carácter reivindicativo del punk y querían explorar nuevos sonidos.
Cuando se cumplen 40 años de la formación de la banda, se anuncia un amplio recopilatorio de todas sus épocas. Nada menos que cinco Cds y dos DVD en los que se incluyen desde los singles de la banda a caras B, sesiones de la BBC, directos y numeroso material que hará las delicias de sus seguidores. Su título será The Public Image is Rotten (Songs from the Heart) y saldrá a la venta el próximo 20 de julio.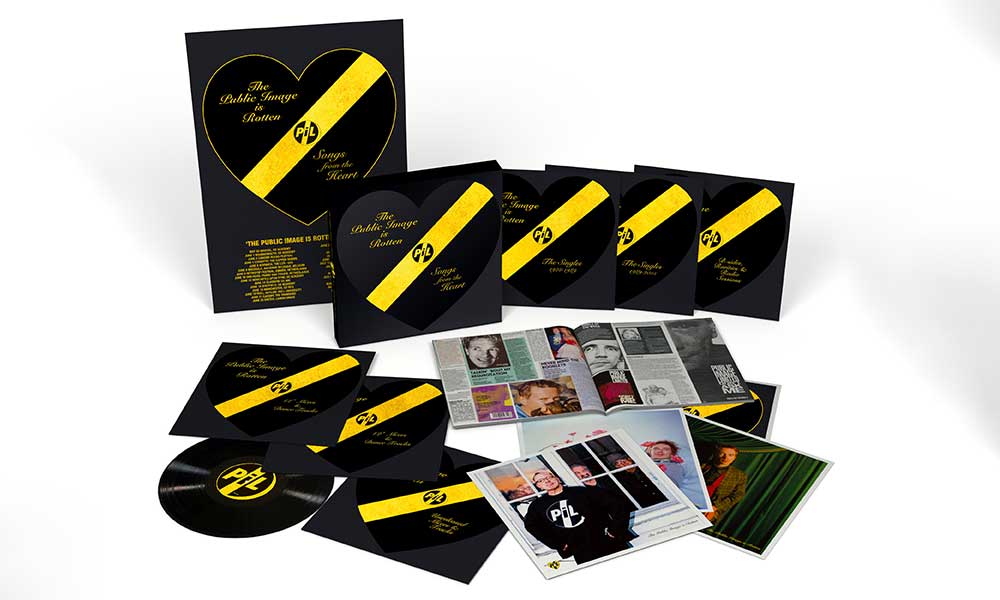 Este será su contenido:
CD 1 – Public Image Ltd – Singles 1978-2015
01. Public Image
02. Death Disco
03. Memories
04. Flowers of Romance
05. This is Not a Love Song
06. Bad Life
07. Rise
08. Home
09. Seattle
10. The Body
11. Disappointed
12. Warrior
13. Don't Ask Me
14. Cruel
15. One Drop
16. Reggie Song
17. Out of the Woods
18. Double Trouble
CD 2 – Public Image Ltd – B-sides, Rarities & Radio Sessions
B-sides
01. The Cowboy Song
02. Half Mix / Megga Mix
03. Another
04. Home is Where the Heart is
05. Blue Water
06. Question Mark
07. Selfish Rubbish
08. USLS1 (mix)
09. Turkey Tits
Rarities
10. Pied Piper
11. Criminal
Radio Sessions
12. Poptones – BBC, John Peel Sessions (1979)
13. Careering – BBC, John Peel Sessions (1979)
14. Chant – BBC, John Peel Sessions (1979)
15. Cruel – BBC, Mark Goodier Live Session 1992
16. Acid Drops – BBC, Mark Goodier Live Session 1992
17. Love Hope – BBC, Mark Goodier Live Session 1992
CD 3 – Public Image Limited – 12? Mixes & Dance Tracks
01. Death Disco (12")
02. Flowers of Romance (Instrumental)
03. This is Not a Love Song (12")
04. Rise (Bob Clearmountain Mix)
05. Seattle(US Remix 12")
06. The Body (US Remix Extended 12")
07. Disappointed (12")
08. Happy (US Remix 12")
09. Warrior (Extended 12" Mix)
10. Lollipop Opera
11. Shoom (from What The World…)
12. Death Disco (Original Monitor Mix)
13. This is Not a Love Song (12" Remix)
CD 4 – Public Image Ltd – Unreleased Mixes & Tracks
01. Annalisa ("New Mix" – Townhouse 1979)
02. Albatross ("Monitor Mix" 1979)
03. Careering (Live Paris 1980) (Previously Unreleased)
04. Banging The Door (Alternative Mix, Townhouse 1980) (aka The Door)
05. Vampire (Unreleased Track – Townhouse 1981)
06. Nineteen Eighty One (Original Version, Townhouse 1981)
07. Bad Night (Unreleased Track – Park South 1983)
08. Things in E (aka Ease) (Alternative Laswell mix 1985)
09. Can you Feel the Fours (Unreleased Instrumental – Farmhouse 1987)
10. Open and Revolving (Alternative Mix – Farmhouse 1987) (aka Spy Thriller)
11. Kashmir (Unreleased Renovations Mix 1987) (Instrumental)
12. Cajun (Unreleased Bill Laswell Instrumental 1988)
13. Worry ("Ruff Mix" – Advision 1988)
14. Think Tank ("Outtake" – Eldorado 1991)
CD 5 – Public Image Ltd – Live @ New York Ritz – July 16th 1989
01. Warrior (with intro)
02. Happy
03. This is Not a Love Song
04. Home
05. Round
06. Brave New World
07. Same Old Story
08. The Body
09. Open & Revolving
10. Rise
11. Disappointed
12. Public Image
13. Seattle
14. World Destruction
Public Image Ltd – DVD 1
Promo videos
01. Public Image
02. Death Disco
03. This is Not a Love Song
04. This is Not a Love Song (live in Tokyo)
05. Bad Life
06. Rise
07. Home
08. Seattle
09. The Body (uncensored)
10. Disappointed
11. Warrior
12. Don't Ask Me
13. Cruel
14. Covered
15. One Drop
16. Reggie Song
17. Out of the Woods
18. Lollipop Opera (unreleased)
19. Double Trouble
20. Bettie Page
21. The One
Tallinn Rock Summer Festival, Estonia August 26th 1988
(intro)
01. Public Image
02. FFF
03. Seattle
04. Home
05. Bags
06. Rise
07. Hard Times
08. Religion
09. Rules & Regulations
10. Angry
11. Open & Revolving
12. Holidays In The Sun
13. The Body
14. World Destruction
Public Image Ltd – DVD 2
BBC TV Performances – Archive
01. Death Disco – BBC, Top of the Pops 1979
02. Poptones – BBC, Old Grey Whistle Test 1980
03. Careering – BBC, Old Grey Whistle Test 1980
04. Flowers of Romance – BBC, Top of the Pops 1981
05. Rise – BBC, Top of the Pops 1986
06. Home – BBC, Old Grey Whistle Test 1986
07. Round – BBC, Old Grey Whistle Test 1986
08. Disappointed – The Late Show 1989
Sydney, Enmore Theatre, Australia, April 10th 2013
01. Four Enclosed Walls
02. Albatross
03. Deeper Water
04. Memories
05. Reggie Song
06. Disappointed
07. Warrior
08. Flowers of Romance
09. One Drop
10. Death Disco
11. This is Not a Love Song
12. Public Image
13. Out of the Woods
14. Rise
15. Open Up